To mark #itsnotok sexual violence and sexual abuse awareness week, Resisters United here take a brief look at the latest UK based developments in the global attack on single sex spaces and examine how this disregarding of our right to single sex exemptions as a Protected Group in the 2010 Equality Act is negatively impacting on women and girls in the real world.
The month kicked off with Lib Dem Energy and Climate Change spokeswoman and peer Lynn Featherstone publishing a statement in commemoration of LBGT History month proclaiming, 'those people who believe they can restrict trans women's rights, deny their human rights, or exclude them from women-only spaces in the name of feminism: You are not feminists. Your views are not welcome in the Liberal Democrats.' (Emphasis ours)
Unsurprisingly, this sentiment did not go down well amongst those left wing women who are entitled to voice their views and concerns on matters which directly impact them, and who have already faced silencing, hostility and/or exclusion from Labour, the Green Party (whose 'progressive' idea it was to start referring to females as 'non men') the Socialist Workers Party, and the Women's Equality Party for respectfully asking to be part of this conversation.
In the proceeding days Twitter and Facebook accounts, 'We Used To Be Lib Dem Women' appeared. The media also picked up on the story with The Telegraph not allowing the Liberal Democrats' appointment of former Green party candidate Aimee Challenor, (whose father David Challenor acted as election agent despite a concurrent police investigation into allegations against him involving the rape and torture of a 10 yr old girl) to go unmentioned, writing: 'former minister Lynne Featherstone made the controversial claim as it emerged the party had recruited the transgender daughter of a convicted paedophile as a new diversity officer."
ResistersUnited received no response to our email requesting clarification on Baronnesses knowledge of women's protected rights under the Equality Act.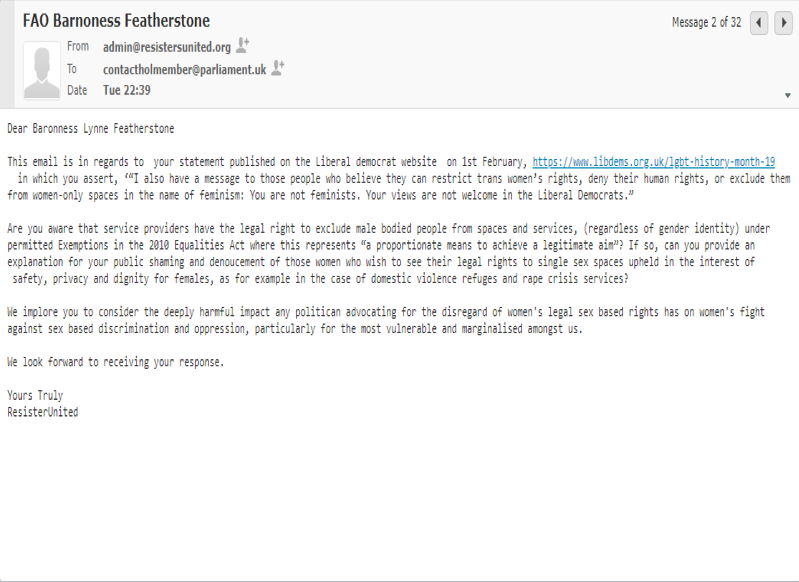 (Text Reads:
Dear Baroness Lynne Featherstone
This email is in regards to your statement published on the Liberal democrat website on 1st February, https://www.libdems.org.uk/lgbt-history-month-19 in which you assert, '"I also have a message to those people who believe they can restrict trans women's rights, deny their human rights, or exclude them from women-only spaces in the name of feminism: You are not feminists. Your views are not welcome in the Liberal Democrats."
Are you aware that service providers have the legal right to exclude male bodied people from spaces and services, (regardless of gender identity) under permitted Exemptions in the 2010 Equalities Act where this represents "a proportionate means to achieve a legitimate aim"? If so, can you provide an explanation for your public shaming and denoucement of those women who wish to see their legal rights to single sex spaces upheld in the interest of safety, privacy and dignity for females, as for example in the case of domestic violence refuges and rape crisis services?
We implore you to consider the deeply harmful impact any politican advocating for the disregard of women's legal sex based rights has on women's fight against sex based discrimination and oppression, particularly for the most vulnerable and marginalised amongst us.
We look forward to receiving your response.)
Yours Truly
ResisterUnited
Shortly thereafter, yet another story appeared in the press of a Transwoman offender, which conforms to statistically evidenced patterns of biological male sexual perpetration, (just 2% of incarcerated sex offenders in UK prisons are biological women.) Transwoman Katie Dolatowski was found guilty of the sexual assault of a 10 year old girl in a supermarket toilet at Kirkcaldly Sheriff's Court. Dolatowski had been caught previously carrying out an act of digital voyeurism, in a different supermarket, filming a 12 year old girl over the cubicle partition.
The nature of this offense i.e: digitally documented voyeurism and sexual abuse, is a growing category of sexual crime perpetration, due largely to the explosion in availability of violent hardcore pornography along with increased affordability, accessibility, and portability of recording equipment including smartphones and tiny cameras, which can be hidden and later collected, or held under or over cubicle doors. A quick scour of Pornhub, the largest porn site worldwide by viewing figures, reveals multiple videos which include the words 'Spycam' or 'Hidden Cam' including 'Voyeur Porn Videos Made by Cams in Public Places' (3.5 million views) Public Upskirt Voyeur Hidden Cam (1.3 million) Shooting A Hidden Camera In The Fitness Club Locker Room (350,000) Locker Room Spycam (570,000) Hidden Cam In Toilets (sic) Bowl (2.5 million) & Indonesian Peeing Toilet Spycam (18,000.) This genre of so called 'porn' (in reality, documented evidence of sexual crime perpetration) has become a problem of such endemic proportions in South Korea that in 2018 a record breaking number of women marched in monthly protests against it. X Hamster, disturbingly, even features instructions on concealing tiny cameras in public spaces.
Sadly as some men fail to treat women and girls in a manner that respects our humanity and dignity in public spaces, mixed sex facilities have proven to be more dangerous for females in terms of actual assault perpetration. A Freedom of Information Request by the Sunday Times previously found around 90% of incidents of sexual assault in UK swimming pools take place in mixed sex changing facilities.
Given that such environments bring would-be perpetrators into close proximity to female victims without raising any cause for alarm, (whereas a man witnessed entering a women only area would tend to be seen as suspicious and more likely to invite interception) it is not surprising that predators would seek out these kind of arrangements to offend. Twitter user Debs recently complained about men walking around naked in the mixed sex changing village at Bath Sports and Leisure Centre.
A Bath and North East Somerset Council spokesperson was quoted as saying there was 'no evidence' of the claims in blatant disregard of the fact that multiple similar allegations were being made, at least one of which was put in writing to the manager of the centre in question, which in itself comprises a form of evidence. One might expect repeated allegations of what in any other circumstances would be termed indecent exposure to represent at the very least cause for proper investigation into the matter. Such outright dismissal however is sadly not untypical of the contempt with which many public officials appear to hold women's safeguarding concerns in their dismantling of single sex policies and facilities.
Is it really a fair interpretation to suggest that women and girls who hold concerns over sharing toilets and changing rooms, with men like flasher and paedopath* Stewart Ogorman are 'bigots'? Astonishingly, according to UWEBristol University, which recently put up posters admonishing women who may feel afraid witnessing male bodied people in female toilets, the answer is yes.
Girls of both primary and secondary school age are suffering the material effects of this rhetoric being allowed to dominate discourse, as 'gender neutral' toilet facilities are increasingly replacing single sex provision, despite this being against the law. The 2012 School Premises Regulations requires separate facilities for boys and girls over age 8, yet this is not being adhered to and parents are not being consulted on the changes either. Twitter user VeganCat described her daughter's experience of being forced to share with boys: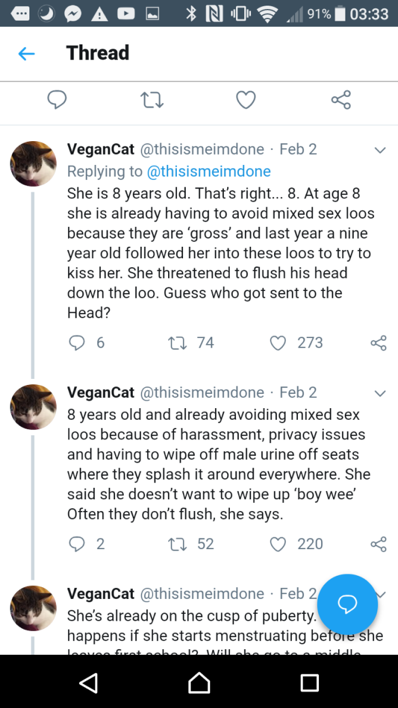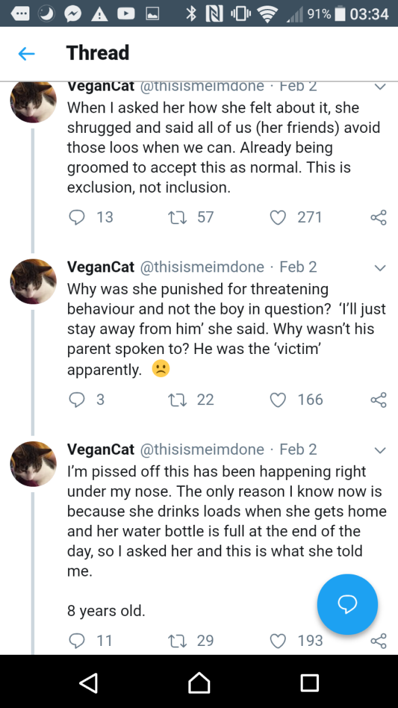 As if young girls and female teenagers today don't have a difficult enough path to walk, with child on child sexual abuse rates rapidly rising over the past 5-10 years, along with boys sexual harassment of their female peers, now the education system is becoming complicit in grooming girls to relinquish healthy boundaries, and a sense of being able to keep themselves safe, and able to turn to authority and receive appropriate support if/when something does happen. Unisex toilets pose a totally needless risk for females, and are experienced as embarrassing and uncomfortable for many boys too.
If the Met Police is serious in its support of anti sexual violence and abuse week then they, along with political representatives and education and public sector officials, must stand up in support of women's campaigns to see single sex spaces upheld, and desist from any policies, activities and woman vilifying speech that is jeopardising this right.
Those governmental committees and organisations who have previously moved to have single sex Equality Exemptions removed from the 2010 Act have shown they do not have 51% of the population's best interests at heart, and this is unacceptable.
In order for women and girls in the UK to participate fully and freely in public life, we must have access to spaces outside of the presence of male bodied people for our dignity, privacy and safety. And there is nothing hateful or small minded about speaking and campaigning on the basis of this truthful assumption.
*paedopath is a Feminist revision of the word 'paedophile.' The affix 'phile' means 'lover of' whilst 'path' expresses a relation to pathology/disease. If you sexually molest children you do not love them, rather, you are sick.