Our latest blog:
I am a Lesbian and I Protested Pride. Here's why…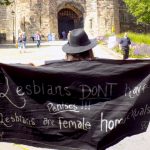 Two years ago, only my closest friends knew I was a lesbian. Last week I was at Lancaster Pride with a megaphone and some friends, loudly protesting lesbophobia in the LGBT community with several dozen teenagers staging a counter protest at us. How did I get here? Read more…
About us:
ReSisters United was formed by women across the UK and Ireland, because we recognized the assault on our hard-won rights and freedoms that gender identity ideology could pose. Resisters United is therefore a feminist movement focused on women´s rights, centering women´s interests and experiences, and for this we make no apology.