Our latest blogs:
Greater Manchester ReSisters' Protest at the People's History Museum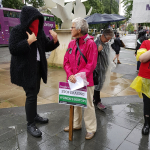 On Saturday, a dozen or so women rocked up at the People's History Museum, placards and megaphone in tow, ready to take the museum up in a literal manner on their invitation to 'come share protests or campaigns important to you.' The strange twist to our 'street' rendering of their 'Protest Lab' exposition, was that it was the museum itself we were there to protest.
Read more…
I am a Lesbian and I Protested Pride. Here's why…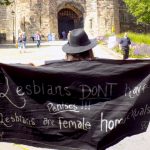 Two years ago, only my closest friends knew I was a lesbian. Last week I was at Lancaster Pride with a megaphone and some friends, loudly protesting lesbophobia in the LGBT community with several dozen teenagers staging a counter protest at us. How did I get here? Read more…
About us:
ReSisters United was formed by women across the UK and Ireland, because we recognized the assault on our hard-won rights and freedoms that gender identity ideology could pose. Resisters United is therefore a feminist movement focused on women´s rights, centering women´s interests and experiences, and for this we make no apology.