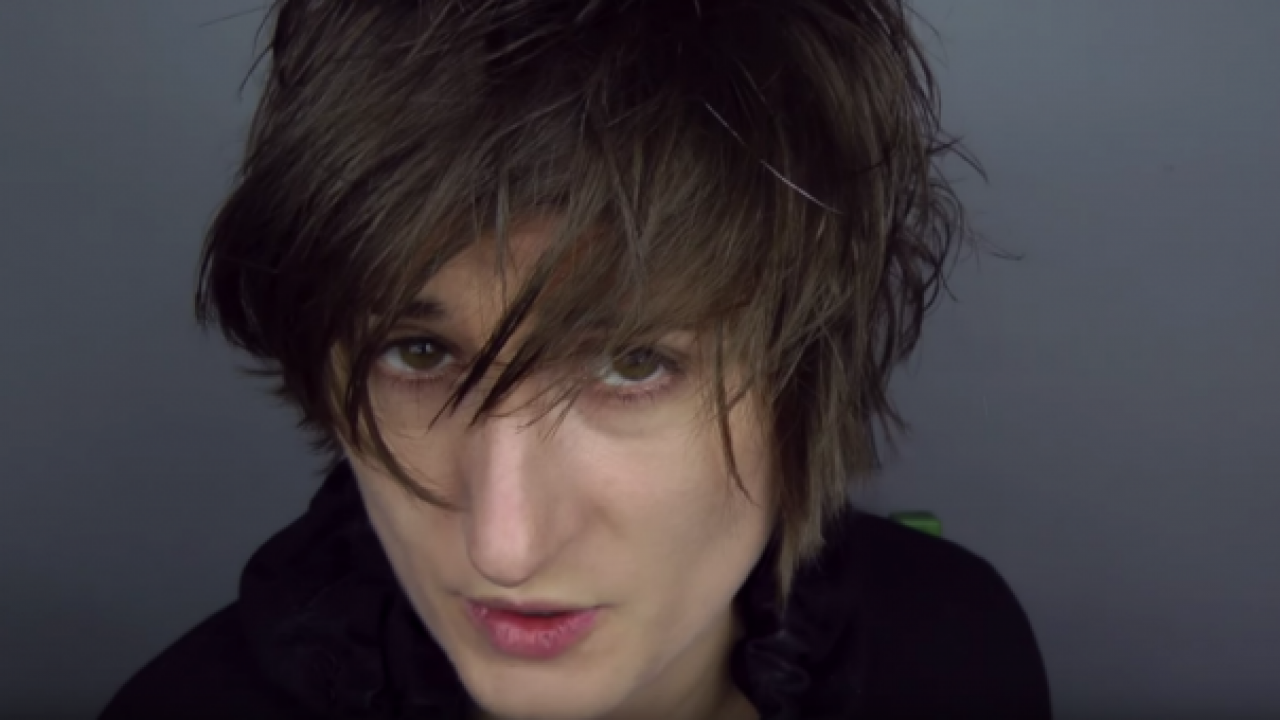 In memory of our sister, Magdalen Berns.
This page is ReSisters United's online memorial to Magdalen Berns, 1983-2019, who sadly died from brain cancer on 13 September 2019.
Magdalen was a forerunner of the current wave of British pro lesbian, pro woman campaigning. She had a profound impact not only in raising awareness on lesbian erasure and the attack on lesbian rights and self definition, but on helping to catalyse the wider gender critical movement in the UK and beyond. Her Youtube channel 'peak trans-ed' thousands and Magdalen touched and influenced many ReSister member's lives.
Magdalen's work caused an awakening to consciousness of lesbian feminist resistance on many women's personal journeys. In the past week, we have received several messages asking to join our group, from women moved by Magdalen's passing and her parting messages to 'be brave, be true, speak out and stand up for yourselves.'

We are grateful and honoured that we were able to make contact with Magdalen in her final months to let her know how she had touched our lives and inspired us to become involved in anti woman and lesbian erasure activism ourselves. We are deeply sad and sorry for the loss of Magdalen's presence in the UK feminist community and mourn the loss of potential opportunities to spend time and collaborate with this fiercely intelligent, courageous and compassionate shero.
Magdalen was a co-founder of 'For Women Scotland' our 'sister' Scottish anti self ID campaign group and predecessor. We consider Magdalen an honorary ReSister, whose legacy we are determined to continue.
These following messages are dedicated to Magdalen, in love and sisterhood. Rest in power.
We remember you Magdalen, and always will. We never met but you changed my life, you helped me find my way in the world as a woman and as a lesbian feminist. You gave me all the information I needed to stand tall and strong in myself and for what I believe in. My life has blossomed because of what you gave to us. How can I ever thank you enough?

---
You will forever go down in history as instrumental to this wave of the feminist movement. You will be remembered long after us. I know thousands upon thousands of women spoke out because of you – what a trailblazer you are. I wish I could be there to celebrate your life, but circumstances make it inaccessible to me. A toast to you Magdalen, may your family beam with pride, love from Sofia.
Sofia, ReSisters Admin and feminist sister XX
---
You burned and shone so brightly and for too short a time. Go gently, wonderful woman xx
Nina Evelyn
---
Magdalen – your star will always shine. You are our Queen, always and forever. Xx
Sarah B
---
Thank you for being such an amazing example of bravery and badassery. You made the world a better place for being in it.
Sarah Cooksley
---
Magdalen – a star in the firmament of amazing women. Your gentle humour and honesty courageously spoken was inspired and inspiring and we were honoured and privileged to know you, albeit for such a short time.

Your family grieve the loss of a daughter and sister, but we grieve too – for the world is a lesser place without you in it. Rest in Peace brave and beautiful woman.

My fave video is this one:
Kate Styles
---
Just thank you Magdalen. I won't ever forget what you have done for women and for me.
Ruth xxx
---
Magdalen – wit, warmth and bravery were woven into everything you said. You have inspired so many women and girls your work will live on and grow. Thank you.'

Jo Bart


---

Magdalen I am so sad I will never get to meet and get to know you. You were an incredible, intelligent, brave, kind, funny, sassy force of nature. When I first joined radical feminist groups, your name came up more than any other, you have changed so many women's lives. God bless you for living your life in an unapologetically authentic way and making the world a better place through it.

Emily Garcia


---

From a lesbian follower and fan of your channel, rest in power sister.

Jess Mansfield


---

Sending loads of love and admiration.

Olivia Smith


---

A warrior princess whose memory will be mourned and cherished by all those who knew her and many who didn't.

Issy Dickinson.


---

Dear tiny Amazon.
A whole community mourns you but, in linking arms, we gain strength and rise again as one. Although we carry you in our hearts, we do it not for you but for ourselves, for our children and for our future. Thanks for reminding us that we matter and must fight back. In sisterhood, always.

Cathy Anne Turner


---

Magdalene will always be remembered as the powerful lesbian Feminist who inspired and motivated.

Louise Somerville


---

Dearest Magdalen, thank you so much for your bravery as an activist and in how you lived your life. You made it look easy and you made us realise we could stand up for ourselves too. That once we did it, we'd get a taste for it and we would get better and better. You connected us to our sisters and were a loud and eloquent voice for lesbians. You helped to radicalise me, and my immediate family! I miss you daily but I am so grateful that you were here with us, even briefly. You made such an impact.

Hazel T-L


---