by Emily Garcia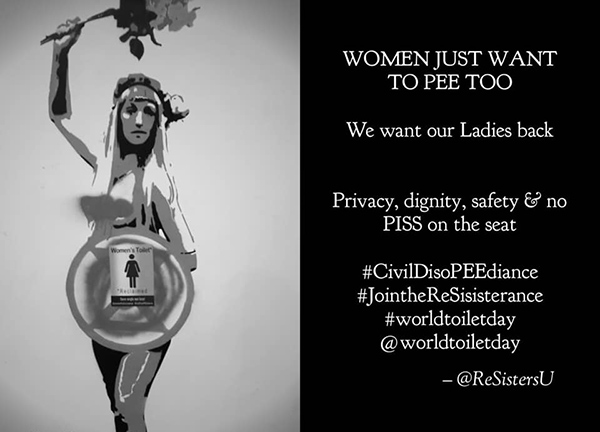 CivilDisoPEEdiance
World Toilet Day was a perfect opportunity to highlight the loss of single sex toilet provision that is occurring in the UK, and reclaim the single sex facilities we need, even if only for the day. So, ReSisters designed custom stickers in case anyone fancied a spot of #CivilDisoPEEdiance.
We weren't disappointed. Pissed off lady pee-ers conducted stealth stickering missions around the UK, reclaiming multiple occupancy Gender Neutral toilets as the 'Women's' loo.
Among the facilities targeted was the Old Vic, who recently gained notoriety for using money crowdfunded on basis of improving women's loo facilities to, instead, tear them all down and replace with entirely mixed sex toilets.
The urinal-having gender neutral block at The Lyric Hammersmith also caught the attentions of sticker women, along with Costa Coffee whose Essex branch featured in the press in June when a spy camera was found in one of their cubicles.
ReSisters tweeted all photographs we received at the relevant pub/restaurant's management. Overwhelmingly to a conspicuous silence, with the notable exception of V Revs vegan restaurant in Manchester who replied, 'Transphobia is 100% unwelcome in our space. Feel very welcome to not come back,' which seemed an interesting take for a small local business that one would expect to be somewhat reliant on word of mouth advertising. Apparently the customHER isn't always right!
Nevertheless, World Toilet Day encouraged and emboldened women to get more vocal about OUR right to pee in peace, as well as raising awareness on why mixed sex toilets end up excluding and marginalising women and girls in public life, especially those with particular needs and vulnerabilities relating to disability, religious faith and age.
If you feel inspired to carry out your own #CivilDisoPeediance protest/s to let management know you're not OK with losing a female toilet space, you can find sticker designs to print here. We'd love to see any photos.
---
Why World Toilet Day?
Conducting a quick duckduckgo search of the phrase 'women and girl's toilet provision' turns up lots of links about the importance of safe and hygienic toilet provision for females in the developing world, which was also the focus of the #WorldToiletDay on social media last week.
The U.N states on its 'UNWater' facts website page that: 'women and girls. . . marginalization is compounded by the indignity and insecurity of having nowhere private to go to the toilet. Addressing the needs of females in relation to water, sanitation and hygiene is a key driver in achieving gender equity and locking the potential of half of global society.' In a similar vein the resource, 'Female-friendly public and community toilets: a guide for planners and decision makers' produced by Unicef, WaterAid and Water Sanitation states:
'girls continue to suffer disproportionately from inadequate sanitation, and often cannot use a toilet when and where they need.'
and continues:
'a key issue for universal access is low availability of public and community toilets. Where they do exist, these facilities typically do not meet the requirements of women and girls.'
Focusing specifically on girls, The United Nations Millennium Development Goals Report testifies that one in five girls of primary-school age are not in school, compared to one in six boys. According to said report, one factor accounting for this difference is the lack of sanitation facilities for girls reaching puberty and the installation of toilets and latrines may enable school children, especially menstruating girls, to further their education by remaining in the school system.
Western Hypocrisy over Sexist Practices in the Developing World and at Home
As with the issues of female genital mutilation and breast ironing, a clear hypocrisy and cognitive dissonance is apparent in Western governments, organisations and charities' condemnation of 3rd world practices rooted in the sexist oppression of women and girls, whilst simultaneously endorsing and enacting similar policies and practices in the West, under the guise of progress for transgender people. Girls in primary and secondary schools are being 're-educated' (read, guilted) out of their preferences for single sex changing and toilet facilities, at the same time that sex segregated toilet provision is being eroded, without the knowledge  or consent of pupil's parents.
Mixed Sex Loos in the UK
In the public realm, businesses and organisations that have switched over to "gender neutral" (i.e. mixed sex) loo facilities without consulting their user base, include:
Mayor Saddiq Khan unveiled plans earlier this year to increase the number of gender neutral toilets across London.

Women's Concerns are Being Ignored
Consistent with the privilege and power held by the network of groups and individuals astro-turfing and formulating policy to support goals of the transgender 'rights' movements (which are, in reality, transgender privileges, since trans identifying people already have equivalent legal rights to other groups), the 'bathroom debate' tends to be framed in terms of transsexuals or sex self ID-ing males need to minimise the risk of male violence and harassment that presents itself when they enter designated male spaces.
Women and girls risk of victimisation by male perpetrators of violence and sexual offenses however is concurrently denied, minimised, or characterised as 'fear mongering.' This, despite cases of male on female violence, sexual assault,  and voyeuristic offenses in changing spaces and toilets continually hitting the news. As John A Powell sets out in his essay, 'Worlds Apart: Reconciling Freedom of Speech and Equality,'* 'The insistence that there is one complete narrative that accurately reflects the world is more than a philosophical error; it can rob people of their own narrative-and therefore their own world. They are forced to live through someone else's story. The struggle in law and in the larger society over the proper language or narrative to use is a struggle for legitimacy, law and power.'
Feminists in the UK are currently fighting to hold onto the single sex exemptions we are entitled to under the 2010 Equality Act, i.e. the ability to access single sex services, facilities and spaces, whilst facing unrelenting accusations of transphobia for doing so.
Although sexed toilet provision is not covered by legislation (except in the case of schools, where Schools Premises Regulations (2012) are being disregarded there have, up until now, been strong social conventions in place, which serve to police entry into designated male or female public loos according to sexed appearance. The installation of 'gender neutral' toilets (See 'Terms'), not as a third option, which would seem a reasonable solution to cater for trans identifying individuals, but at the expense of a 'Ladies' loo (often leaving the Gents intact!)

This represents an erosion of the few public spaces women can occupy free of male presence. All the more distressing because of women's particular vulnerabilities and specific practical needs in a bathroom.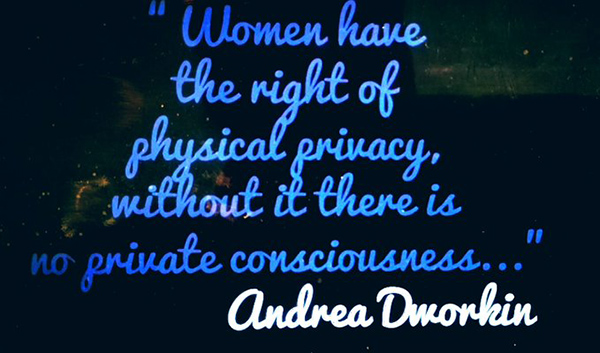 ---
---
---
Women's Experiences of Mixed-Sex Loos
In order to re-centre females in the toilets issue, and bring attention to women's experiences and feelings regarding mixed sex facilities, I asked for women's stories in gender critical groups and on Twitter.
These were some of the responses:
"I was in a pub in London a few years ago and the downstairs area had a disabled and other toilet through a door. There was a group of rowdy men near the door. As I went to go in the outer door to the toilets a huge man was coming out. He said to me "just to let you know the toilets are unisex". He was genuinely trying to tell me so I wasn't taken unawares. And yet just hearing this from this huge man made me feel intimidated. That any one of the rowdy men behind me could come in.

Nothing bad happened to me but I realised just how scared I felt at the prospect of coming out of the toilet and being in an enclosed space with drunken rowdy men. . . I've always used the women's as a sanctuary to get away from men. So it's taking away a safe space, which in a bar or nightclub is well needed.

When I went to Laverys in Belfast, there were mostly mixed sex toilets downstairs opening onto the courtyard outside. Every single toilet seat was covered in piss so I ended up going up the stairs a long way to find the women's just to find a seat I could sit on."
---
"I work in a hub where the gender neutral toilets serve both a community cafe attached to a school and the hub where social services work and provide contact sessions for children. The toilets are used by staff, year 12 and 13 pupils and those visiting the cafe or social service contact centre.

These children can be young and potentially vulnerable. There are reasons why they have supervised contact in the hub rather than in the home.

Recently I went to the sink to clean my hands and in the mirror above I saw that a man was urinating in the toilet cubicle with the door wide open. When he saw me he turned around. Having been flashed at as a youngster I knew it was important not to look down so I don't know what I would have seen if I had.

He asked if this was the men's toilet. It has no urinals and what he thought I'd be doing in the men's I have no idea. I complained to the hub manager because this is a safeguarding issue when there are young children using these toilets. There should at least be a large sign informing people that these are mixed sex toilets and doors need to be kept closed. Nothing has been done."
---
"I have been pushed in a cubicle and groped and snogged by a male "friend" in unisex nightclub toilets.

More recently, I was in a cubicle and had had an epic period bleed start. The walls were ceiling to floor and there was no toilet tissue in my cubicle. Normally you could ask a neighbour to put some underneath, or do a dash to another cubicle. In a busy very open unisex arrangements I was very stuck."
---
"I was waiting in line for the toilets in a bar in Belfast this afternoon. They were only two toilets, both gender neutral fully enclosed room. The woman in the queue next to me turned and said to me 'I hate mixed sex toilets'. The she picked her words very very carefully, obviously fearful of me launching into abusing her for being a bigot.

She went on to say that she once was in a bar where the toilets were empty when she went in and she heard someone else come in. She came out of the cubicle to find a man with his hands down his trousers clearly getting off on the situation of knowing a woman was in there.

Then she said to me. 'My husband works with offenders. I know people say this would never happen but you wouldn't believe how many men he has contact with who have dressed in women's clothes in order to access toilets and changing rooms unchallenged'.

When I told her I was 100% in agreement she looked so relieved."
---
"I was followed into a unisex toilet in a club in Vauxhall, London by a man who was very insistently trying to chat me up and who I was attempting to get away from. He stood outside the cubicle pestering me. I found it panic inducing and my heart was pounding. There was a male security guard in the loo, but no-one else. I was too anxious to ask him for help as I have read about cases of bouncers raping women in clubs and was freaked out he was there at all. I was trying to get away from both of them in that small enclosed space a.s.a.p."
---
I also conducted a poll on ReSisters United Twitter asking: 'if you were in a venue/public place where there were only Gender Neutral toilet facilities available, would be likely to attempt to avoid using the loo during outing?'
Of the 304 respondents, 87% responded affirmatively, as compared to 54% of a sample of 93 Trans identified people in Washington, U.S who 'reported adverse health effects from trying to avoid using public restrooms' in the 2008 Williams Institute study.
Unsurprisingly, assessing or researching women and girl's potential difficulties in using mixed sex facilities does not appear to have factored into the overhauling of toilet provision by organisations and businesses.
Comments from ReSisters Poll Respondants
A common theme from posters on Mumsnet thread 'Share your experiences of gender neutral toilets' was that of unisex toilets being under-used where there were alternative tradition toilets available, or men and women sticking to the 'old' system of which toilet each sex used, which also matches comments from twitter poll respondents.
I check, before I go to a place, whether they have toilets for females only. Sometimes, like @LyricHammer, they just ignore me. If they do not have toilets for females only, I don't go. Have also started checking with the school before I let them take my daughter anywhere.

— Anne James #FBPE 🕸 (@NWtoG) November 17, 2019
---
I'd try to avoid but post second baby I probably can't avoid as need the loo all the bloody time.

— Natasha Love (@NatskuLove) November 17, 2019
---
I already avoid places like pubs and nightclubs if they're likely to have mixed sex loos. Single self contained ones are fine. I might use mixed if it's somewhere like a museum, but wouldn't return.

— Sheena 🧙‍♀️🧹🌘⭐️ (@S_h_e_e_n_a_) November 17, 2019
---
As with others it depends. Completely enclosed cubicles with washbasins etc would use. Shared with part enclosed cubicles, maybe not, with urinals absolutely no way!

— Charlotte (@CharlotteB1) November 17, 2019
---
Friends of mine out in York last night. Gender neutral loo in one bar. They held on till the next pub where women's toilets were available.

— walks like a duck (@ally69342400) November 17, 2019
---
A man, and father of two young daughters. I will not attend or support any venue that does not provide a clearly demarcated area for people assigned female at birth. I'm not transphobic, trans people should have their own facilities. If they don't want to share why should I? 🤔🤷‍♂️

— 👻 Ghosty Gò.Ó 👻 (@ataraxianautist) November 17, 2019
---
I am a man and I will avoid using not just because my wife is the only women I pee in a toilet with but because she and my daughter should not have to put up with this.
It is wrong and unnecessary.

— Rigoberto López Pérez (@llleeds69) November 17, 2019
---
Wouldn't feel comfortable using them as a man. Would worry I would look like a creep.

— Jaggybunnet (@hughgmeechan) November 17, 2019
---
Mixed sex toilets are evidently as unpopular then as they are unworkable in practice.
We hope businesses, organisations and the authorities can be persuaded to see sense over their crappy idea, pun intended.
Let's keep the pressure up because women's and girl's privacy & dignity when spending a penny matters.
---
Further reading on this topic:
---
*P335 'The Price We Pay: The Case Against Racist Speech, Hate Propaganda and Pornography by Laura Lederer and Richard Delgado'